1. Foot stabilization during the growth period.
2. Providing proper body posture and teaching proper walk.
3. Controlling proper foot growth.
4. Eliminating majority of foot and knee joint dysfunctions.
5. Limiting costs of medical care.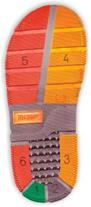 1. Unique assessing sole indicating foot dysfunction level, accompanied by special care instructions for the proper foot development.
2. Footwear made in special V-tech montage technology process, guaranties keeping the symmetry axis in a made shoe. Together with a characteristic stiff heel and a high upper it supports a proper feet growth.
3. Highest quality materials are used for Memo footwear production. Outside and inside of the shoe is made of natural soft goat leather perfect for child feet. The goat leather naturally adapts to a foot maximizing the wearing comfort.
4. A set of inserts which is a part of Memo system together with built in medial wedge gives memo shoes a corrective footwear character. Memo shoes and inserts prevent poor posture and body alignment, bone deformity, and disorder of balance and coordination caused by foot dysfunction.